The Batchelor Collection - Photo Galleries
---
View all galleries - Church Exteriors - Corbels, Bosses and Angels - Fonts - Interiors - Landscapes - Oddities and Special Interest - Painted Screens - Poppy Heads and Benches - Stained Glass Windows - Wall Paintings - Past Exhibitions - Norfolk Poem -
Alan's Photo Microscopy - Ruth's Wildlife - Joyce's Award Winners
---
Wall Paintings
Horsham St. Faith's Priory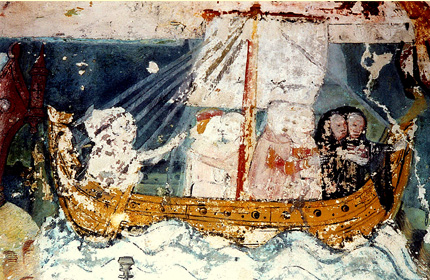 Horsham St. Faith's Priory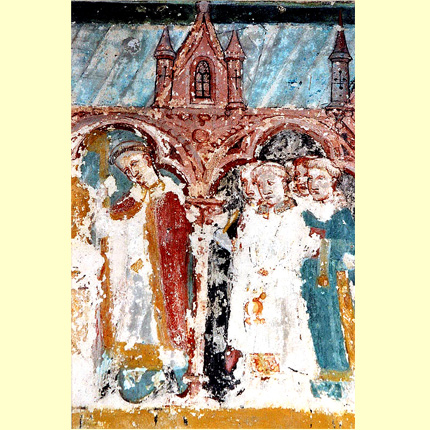 The Wall Paintings of St. Faith's Priory are unique as they are thirteenth Century. That is unique enough, but they are displayed in the form of a 'cartoon' or comic strip, which covers the entire end of the east wall of what would have been the monk's refectory.
They are also unusual in that they show contemporary objects used in construction, including a wheelbarrow. This is one of the earliest representations of a wheelbarrow in western art ~ Wheelbarrows were a Chinese invention and evidence of their use in Europe dates from the thirteenth century.
The story shows Robert Fitzwilliam and his wife Sybil returning from a pilgrimage to Rome. During their journey they are set upon by bandits and locked up. They prayed to St. Faith, who released them. Robert and Sybil make their way to Conques where the Abbot welcomes them and gives them shelter. Here they give thanks and vow to build a Monastery to St. Faith on their return to England. The Abbot of Conques helps them and sends two monks with them to England, ~ Barnard and Girard who had skill in building to help with the construction of the new Monastery. The pictures show them all in a boat on their way home.
The Cartoon Strip continues to show the building of the Priory Church (always built first) supervised by Sybil. The Priory Church was consecrated by Herbert de Losinga in 1119 and the first Prior was appointed in 1125 by the Abbot of Conques.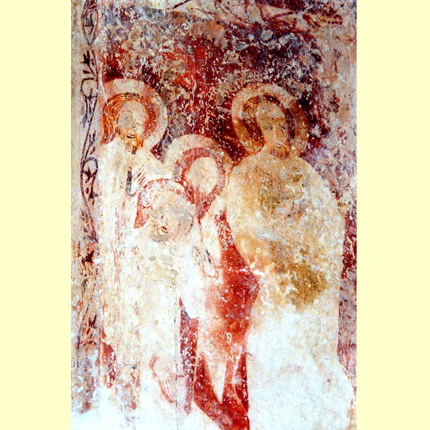 Crostwight, All Saints, Seven Deadly Sins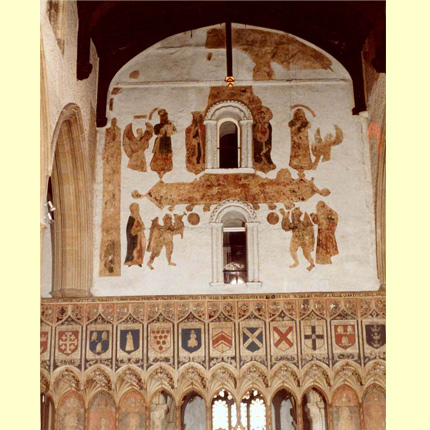 Attleborough
---
View all galleries - Church Exteriors - Corbels, Bosses and Angels - Fonts - Interiors - Landscapes - Oddities and Special Interest - Painted Screens - Poppy Heads and Benches - Stained Glass Windows - Wall Paintings - Past Exhibitions - Norfolk Poem -
Alan's Photo Microscopy - Ruth's Wildlife - Joyce's Award Winners
---